Laura Ingalls Wilder.

One of my idols when I was younger.

I read book after book.

Watched every episode that was ever made, even the movies that came later.
She was the little girl that I dreamed of being.

Strong willed, self sufficient and pretty spunky too it seemed! The tales where just amazing to me.

Chickens, milk cows, cooking everything from scratch and (gasp!) no cars???
I few years back I started reading the books to my kids for bedtime stories.

One chapter each night.

Their favorite is "Farmer Boy".

This one goes through the childhood of Almonzo Wilder.

He grew up with more money than Laura and had quite the farm set up as the book describes.

Some of the biggest descriptions are the food they ate.

Breads, pies, meats, vegetables just mountains of food!

One of Almonzo's favorite dishes,

"Apples-n-Onions".

I first cringed at that dish, but was curious about it.

I found the recipe in "The Little House Cook Book".

Each recipe in the book is accompanied by the story that surrounds the dish.

If you are interested in early American foods, this is a great book!


So here is my take on Almonzo's favorite...
 
For my family of six, I use 3 apples and one red onion.
I cut the apples into wedges and sliced the onions rather thin.
The recipe calls for it all to be cook in bacon grease, but any oils or butters would do the trick. Cover and cook these down until soft.
All the apples and about ¼ - ½ cup of brown sugar on top.

Cover again and cook on low until apples are soft and brown sugar is melted over.
The colors are just beautiful, don't you think?

A perfect fall dish!

The apples are soft and sweet, the onions have been caramelized to a sweetness that even my onion haters love.

I also sprinkle bacon on top at the end.

A wonderful combination, who woulda thunk it!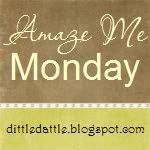 Find this post and more at this linky party every Mon.